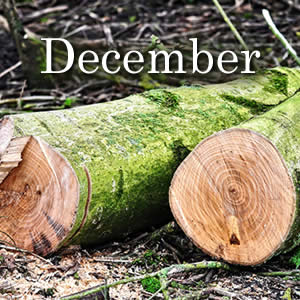 It might be cold, freezing and wet outside (perhaps even some frost and snow to make it feel Christmassy) but there is plenty to do to keep gardeners busy.
Climbing plants such as wisteria and roses need pruning. Cut away any dead branches, diseased or damaged growth and tie in new shoots to their supports. Side shoots should be cut back by approximately two thirds their length to give room to grow next year.
If any of your roses have been suffering from black spot or rust throughout the summer, carefully remove all the fallen leaves from around their bases. Ideally these should be burned. Do not add them to the compost. Getting rid of the leaves will reduce the risk of any infection next year.
Keep watch on temperatures and weather forecasts. If frosts or heavy rain is forecast, make sure that you dig up any root crops such as potatoes, carrots and parsnips required for the Christmas meals in good time. Put them in a cool, dark place in a shed or garage until they are needed.
There is still time to plant up some winter containers with pretty pansies, winter flowering heathers or hardy cyclamen to brighten up dark corners of your patio or beside doors. Most garden centres will still have a supply of suitable plants available, sometimes even ready planted up in display bowls for immediate use.
One of the most enjoyable tasks in December is cutting evergreen branches to decorate the house for Christmas. Most conifer branches can be trimmed to provide greenery, as can holly bushes. If cutting holly, look for branches that have some berries on them as they add a lovely colourful touch. When cut, place the evergreen branches in a bucket of water to keep them hydrated until you are ready to use them. Use florists wire to tie evergreens into wreaths or bunches, or simply drape the evergreens across the mantelpiece for instant effect.
Cold frosty nights and the possibility of snow or bad weather – December weather can be totally uncertain. What is certain is that there is always something that needs to be done in the garden. Enjoy the winter landscape, but get your gloves out as plants need some care.
This is a perfect time to prune holly bushes and other evergreens to provide greenery for the house over Christmas. Twist the prunings into wreaths over a metal or cane hoop, drape across mantelpieces or over doors. The prunings also make great flower arrangements for the dining table, especially if you scatter a few pine cones around too.
If you have some space to fill in your garden, it is worth thinking about adding a winter flowering shrub or two. Good examples are the pretty yellow flowers of Winter Jasmine, or the shrubby Winter Honeysuckle with its extremely fragrent white flowers. They can be planted safely in the winter as long as there is no frost, ice or snow on the ground.
Elsewhere in the garden, prune Wisteria removing side shoots to leave just 2 or 3 buds, cut out dead or damaged branches from climbing roses and tie in new growth. If there are any hardwood trees and shrubs that your are keen to propagate, this is the ideal time to take cuttings.
In the vegetable garden, continue to clear any debris and dig over the soil to allow worms and frost to break up any clods, creating nice friable soil ready for planting in the spring. Established rhubarb crowns can be split up now to regenerate the plants. Sections from the outside of the crown will possess the greatest growth prospects. If you have any winter brassicas growing, remember to cover them with netting to protect them from pigeons.
Remember too that root crops such as carrots and parsnips need to be dug up well in advance of Christmas Day – just to make sure that any heavy frosts do not prevent you from enjoying the harvest!
Frost and snow look beautiful especially at Christmas – but your plants may not be as happy. Be prepared to brush the snow off established trees and bushes such as Juniper, as well as newly planted trees since the weight of the snow can break branches.
Remove the snow from paths and driveways as a priority since once it freezes it can become a major hazard. Trips and slips can result in broken bones or extensive damage when driving.
When it comes to decorating the home for Christmas, your garden can provide some really pretty greenery. Holly bushes laden with glossy leaves and red berries are perfect for creating wreathes which means you can combine essential pruning with festive cheer. If you have some pine trees in the garden, collect up some of the pine cones for decoration. Remember that all such green material can always be added to the compost afterwards.
Make sure that any Christmas lights and decorations installed outside are suitable for exterior use. Do not overload electric points and check the condition of the lights carefully before use to make sure they are fully safe.
During milder spells, harvest root crops such as parsnips and carrots that are overwintering in the ground. Cut stems of Brussels sprouts just before the leaves of the sprout turn yellow and begin opening. The sprouts should be about an inch in diameter, and nice and firm to the touch. The taste is at its best after frost, so it is worth checking the weather forecasts before harvesting.
Check hyacinths that have been potted up for Christmas flowering and left in the dark to develop. As soon as the stems begin to grow, they should be brought out and kept in the light so that they can develop strong flower heads.
There is still time to plant some winter flowering pansies in containers and flower beds to brighten up dull corners. Remember to pick sprays of winter honeysuckle and place in vases to enjoy the wonderful scent which can pervade the entire room.