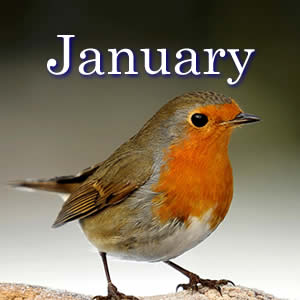 Frost and snow inevitably appear sometime in January so it is important to make sure that your garden is ready to cope with bad weather.
If you have any plants overwintering in the greenhouse or cold frames, make sure that windows are closed and plants are insulated from the cold. A layer of bubble wrap over the windows will provide quick and simple insulation. Netting on top of fruit frames should be removed to avoid damage when snow begins to fall.
Trees and bushes look pretty covered in snow – but don't let it stay too long as the weight of frozen snow can cause damage. Brush off the snow at the first opportunity.
Always check the stability of stakes and tree ties on newly planted trees after bad weather. Strong winds and snow can dislodge stakes, making the tree more vulnerable when the next bout of winter weather arrives.
Don't forget to prune apple and pear trees to ensure good crops in the coming year. Cut away any damaged branches on trees and bushes. Continue pruning and cutting away dead wood and old flower heads of buddleias and roses whenever the weather is suitable.
If you have been harvesting brassicas for use during Christmas and New Year, dig up the stumps, shred and add them to the compost heap.
Take the lawnmower for servicing and check to see if the blades need sharpening. Grass will start growing quickly once spring arrives.
Take the opportunity to wash and disinfect the greenhouse and do any repairs that are necessary. Replace broken glass, ensure that vents work properly and add some lightweight guttering along the roofs so that water can be collected in a nearby water butt for use later in the year. Clean tools and sharpen blades ready for use.
January might be cold and wet, but take advantage of any dry spells to get out into the garden. The winter colours can be incredibly beautiful while the air is fresh and clear, bringing the scents of winter flowers such as flowering honeysuckle and viburnum. As the month progresses, the first snowdrops and aconite may appear.
Any mild days where the ground is frost free is an ideal time to plant bare root roses, shrubs and fruit trees. These dormant plants can be purchased from most garden centres and nurseries and should be planted as quickly as possible after arrival. They will establish very quickly once spring arrives.
If your soil is very wet and slow draining, you can improve it by adding in soil conditioners and fresh compost. Dig in thoroughly to break up the soil, but give yourself regular breaks, as it can be very tiring. This will ultimately make the soil easier to work, and encourage water to pass through.
Check your drains to make sure that the covers are not obstructed, and that water can drain away easily. Remove any obstructions from paths and keep the surfaces clear. This will reduce the chance of water collecting in large amounts. Adding gravel around plants, or on driveways will also help.
If your water butts are getting full, use a linking kit to join it to an extra butt so that none of the rainwater still to come is wasted. Remember it will be needed come the summer!
Take a look at your garden tools. This is a perfect time for sharpening mower blades, secateurs and shears. Book lawnmowers in for a service so that they will be ready for use as soon as the grass starts growing again in March. Always remember to remove any surplus soil from the prongs of garden forks or the surfaces of spades before putting them away after use, since this will help keep them in good condition.
January can be a difficult month in the garden for plants. The patches of sunshine and pleasant weather gives you time to get and plant new trees and hedges, allowing them time to establish before spring growth begins. Then suddenly the temperature can drop below freezing. For plants, especially new ones, that is not good news.
If left unprotected, the cold can loosen and lift the roots of your new plants leaving them open to the freezing temperatures. Keep watch daily on weather forecasts to ensure that you have immediate knowledge of any predicted changes in temperature. Have warm fleeces at hand ready to cover plants or to place around newly planted trees. If you see any lifting of the soil around roots, gently refirm as quickly as possible.
Any non-frost proof containers such as terracotta pots should be moved as soon as the temperature begins to fall, otherwise they could begin to crack. Grouping pots close together beside a south facing wall helps, as does wrapping the pots in bubble wrap, hessian or fleece.
There is plenty of clearing to be done. Ornamental grasses need cutting back dramatically to within a few centimeters of the ground. Finish any pruning of trees and bushes that remains to be done. Brightly coloured willows and dogwoods need the oldest and any damaged stems to be removed, while overcrowded clumps need to be thinned out ready for the new young growth.
Over in the vegetable garden, leeks, Jerusalem artichokes and parsnips will still be ready for harvesting. Put aside some of the artichokes in a frost free place to be used for the next season's growth. Take off the yellowing leaves from brassicas as these will harbour pests and diseases. Early potatoes can be grown in containers under cover for a very early crop.
This is an ideal time to prune fruit bushes to ensure they grow productively. Remove any dead or damaged branches, and reduce any overcrowding. The bushes do need air to circulate around their branches. It will also make picking much easier come harvest time!
As the 12 days of Christmas come to an end, the first task for any gardener is to recycle evergreen wreaths, swags and, of course, the Christmas Tree. Smaller items can be put through the shredder and added to the compost heap. Christmas trees are too big for domestic shredders so check out the arrangements made by your local council. Most local councils will have organized some way of collecting the trees, or you can take them to a waste disposal centre where they can be commercially shredded and turned into mulch.
Remember to feed the birds. They will needing extra food in these colder days as flies and berries are in short supply. Keeping the birds well fed now, will pay dividends in the coming months as they will be more likely to stay around your garden. Once spring comes, you can reduce the feeding and allow them to eat up all the nasty insects that cause problems in the garden throughout the year.
Remove faded flowers from your winter pansies as soon as they begin to die off – this will prevent them setting seed, and encourage the development of new ones.
Cut some branches from winter flowering shrubs such as honeysuckle and jasmine to place in vases inside the house. The beautiful colour and scent will be really welcoming on dark, cold days.
As the month progresses, continue tidying up in the garden cutting back old stems of perennial plants such as sedum, lupins and hardy geraniums. Equally important is to cut back any stems of ornamental grasses close to the ground, and removing old, damaged Hellebore leaves so that you can enjoy the new blooms as they emerge later in the spring.Doing it in small amounts makes it much easier to accomplish, and prevents you from getting too wet or cold and possibly damaging your health with coughs and colds, or aching muscles as a result.