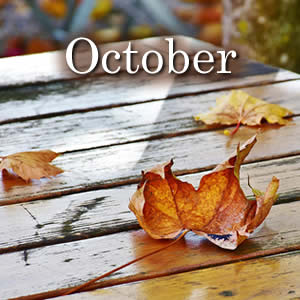 The season of mists and mellow fruitfulness has definitely arrived. Orchards are brimming with fruit waiting to be picked, rows of pumpkins and squashes create an oasis of brightness in the vegetable plot. Throughout the garden, leaves are changing colour, adopting shades of brilliant yellows, red, oranges and browns accompanied by the gentle swish of leaves falling to the ground to lie in piles under trees and shrubs. The bright colours of Michaelmas daisies and asters are complemented by the arrival of berries on shrubs such as pyracantha, cotoneaster and roses.
Leaves need to be tidied up regularly and placed into compost bins as they will break down over the winter period to make wonderful fertilizer for the garden. Always check large piles of leaves before moving them in case hedgehogs have made a winter hibernation nest. If present, don't disturb them, just cover them up warmly and let them sleep. Come spring, they will be your best friends in the garden, eating pests of all kinds from slugs to insects.
Half hardy plants need to be protected with fleeces at night, or brought into the greenhouse for long term protection over winter. Keep check on temperatures as nights can begin to get quite chilly. As October nears its end, there is a constant risk of frosts.
As you tidy up the garden, and remove weeds and debris look out for areas where plants have died or need replacing. This is a good time to plant daffodil bulbs, tulips, allium, crocuses and snowdrops ready for spring displays. Dot bulbs throughout borders, or naturalise within lawns. Garden centres and garden mail order catalogues have a superb range of bulbs available, and this is the perfect time to buy new varieties and species.
Add in a few pansies too, as they bring welcome colour on cooler days throughout the winter. Equally worth considering are winter flowering shrubs such as winter jasmine with its beautiful golden yellow flowers that really sparkle on a cold winters day.
Don't forget to mulch borders with bark chips, well rotted manure or leaf mould. This will help insulate plant roots against the winter cold and help reduce weed growth.
With leaves turning brilliant shades of gold and red, it is a clear sign that autumn has arrived. Brightly coloured berries can be seen on bushes while purple Michaelmas daisies, red sedums, white, blue and pink asters are coming into full flower. It is a beautiful time to be in the garden – but it is also a signal for action.
As the days grow shorter, the risk of air frosts is becoming greater. Check the condition of fleeces and cloches to make sure they are in perfect condition. They may be needed quickly.
Any remaining tomatoes growing outside should be picked and used to make chutney. Apples and pears are ready for harvesting. Any fruit lying on the ground may attract wasps desperate for food before the onset of winter. They can get very aggressive so take great care when picking up fallen fruit.
Pumpkins should be gently lifted and placed onto pieces of foam, wood, or thick cardboard. This will decrease the risk of rotting underneath and help the final stages of ripening before harvesting at Halloween.
Take advantage of the remaining warmth in the soil to plant trees and sow seeds for early crops of broad beans and carrots. Winter flowering pansies are now available for planting, as are spring bulbs. Daffodils, tulips, crocuses and snowdrops always give a stunning spring display. Place them in containers close to the house, or in spaces underneath deciduous shrubs. It is also worth considering planting some bulbs in the lawn where they can be left to form eye catching colourful clumps each spring.
Lawns still need mowing regularly as the grass will continue growing for some weeks yet. Check the condition of the lawn to identify any areas where drainage may prove a problem. Aerate carefully and add some sand to improve drainage. This will reduce the risk of boggy areas developing or allowing water to gather on top of the lawn.
White shading should be removed from greenhouses so as to enable plants to gain maximum light. Keep watch on temperatures as ventilation may be needed during the middle of the day if sunshine is forecast. Remove any fallen leaves quickly as this can encourage unwanted insects to seek refuge or for diseases to develop.
Autumn has now definitely arrived. With nights getting chillier and fewer hours of sunlight, gardens are adopting their autumn hues of brilliant reds, golds and deep browns. These are leavened by the pretty shades of autumn flowers such as sedums, asters and michaelmas daisies offering the last pollen of the season to busy bees.
Enjoy the beauty of these autumnal days, but also take time to start your preparations in the garden. With the risk of air frosts becoming increasingly common towards the end of the month, make sure that your cloches and fleeces are in good condition. Replace any damaged products, as they will be soon be needed to protect seedlings and vulnerable plants over winter.
Catch up on your harvesting. Apples and pears need to be picked and stored safely. Wrap in newspaper and leave in a cool, dry place. Use any damaged fruit as quickly as possible. When picking up fallen fruit from the ground, check there are no wasps or hornets around. They can get very aggressive in their search for food at this time of the year.
Strip the vines of any last remaining tomatoes. Green ones can be used for chutneys. Cut down the vines and place in the compost, likewise any bean stalks. Leave bean roots in the ground for a few weeks to allow nutrients to return to the soil. If you have any pumpkins or squashes in your vegetable patch, gently lift them onto pieces of foam, thick cardboard or wood to prevent any rotting on the damp ground. Allow them to finish ripening in the autumn sunshine before cutting at Halloween.
With soil still warm during the day time, it is an ideal time for planting trees or sowing seeds for spring crops of broad beans and carrots. Lettuce can be sown in greenhouses and kept warm under fleeces.
Tidy up dead vegetation from the garden, removing leaves and placing in the compost. Always check that there are no friendly hedgehogs starting their hibernation below deep falls of leaves, especially if they are piled up with branches for a bonfire. Fill any gaps that are appearing in the flower beds with cheerful winter flowering pansies as well as spring bulbs such as snowdrops, aconite, crocuses and daffodils. Such bulbs really brighten up the garden in the deep winter when they start poking through the earth creating a pretty carpet of colour.